Our assessment solution

Guided by the desire to complete its Human Resources consultancy offer, ANTENOR is developing its Employee Assessment solution.
ANTENOR relies on the expertise of its consultants, who are recruitment specialists and have a background in work psychology. Based on a validated methodology and providing an external perspective, these assessments make it possible to assess the suitability of the employee for the targeted position, through the study of his or her skills, experience, personality traits, motivational elements and values.
Examples of objectives arising from an assessment :
•  decision-making support in a professional assessment context
• considerations made in the context of professional development or mobility
• Support to enable a ramp-up to new functions,
• Focus particulier sur les aptitudes au management et au leadership
• Training recommendations, etc.
The stages of the assessment: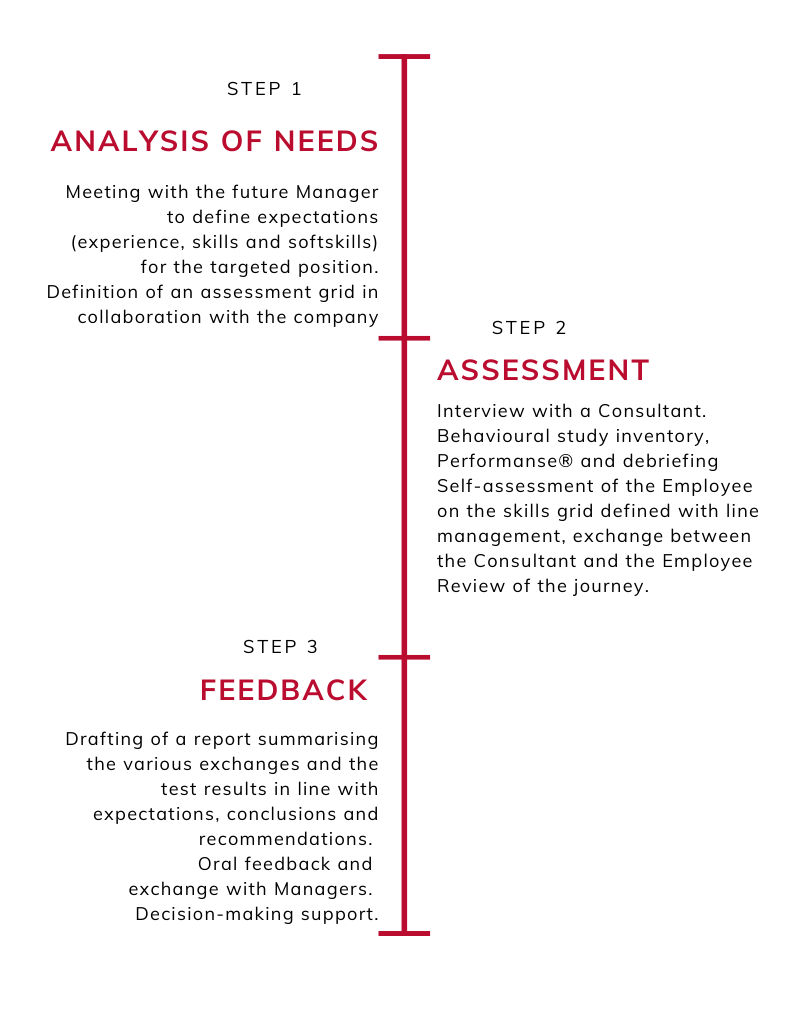 Which tool?
Our Assessment Consultants have a proven and recognised tool in the field of Human Resources. This tool makes it possible to assess the individual resources of the person undergoing assessment, his/her behavioural dynamics (soft skills), based mainly on the study of his/her personality traits, as well as motivation and values elements.
The result is a rich and nuanced questionnaire that allows for an in-depth discussion between the Employee and the Consultant.


Christophe Dallet
Director
With a post-graduate degree in Social Sciences and a post-graduate degree in Psychology, Christophe began his career as an HR Consultant in a big five consultancy (recruitment; HR reorganisation and redesign consultancy; training; management coaching, etc.); he then became HR Director of Headstrong France. An expert in recruitment in the Life Sciences sector since 2007, and particularly in the health sector, he is now co-director of ANTENOR.
[lire la suite]
Céline Metz
Senior Consultant France & International
Céline is corporate psychologist and has been a direct-approach consultant for industries since 2006. She joined ANTENOR in 2012 and is in charge of recruitment and headhunting. She works in the field of Medical Device, Imaging, HomeCare and also Cosmetics. Her expertise enables her to support her partners with expert, executive and managerial profiles for headquarters, the field or on industrial sites. (Medical Management, Site Management, Production Management, Sales and Marketing Management, R&D, Regulatory Affairs, Quality, Sales Rep., etc.) She also uses her skills and knowledge to assist companies with assessment tasks as part of internal development, for example. Her main priority is recruitment and the management of human talent.
[lire la suite]