Our coaching solution

Guided by the desire to provide its clients with ever better support, ANTENOR is developing its coaching solution.
ANTENOR works with a network of certified coaches whose values match those of the firm: partnership, transparency, commitment, thoroughness and confidentiality. Their respective backgrounds provide you with an understanding of the challenges of corporate life and professional relationships between employees.
Examples of topics covered in coaching:
•  developing a managerial posture
•  joining a Management Committee
    organisation
•  becoming a manager of managers and supervising former peers
•  successfully taking up a post
•  being an active player in the transformation of the company
•  gaining in impact and assertiveness
•  becoming an inspirational leader
The steps in the coaching process :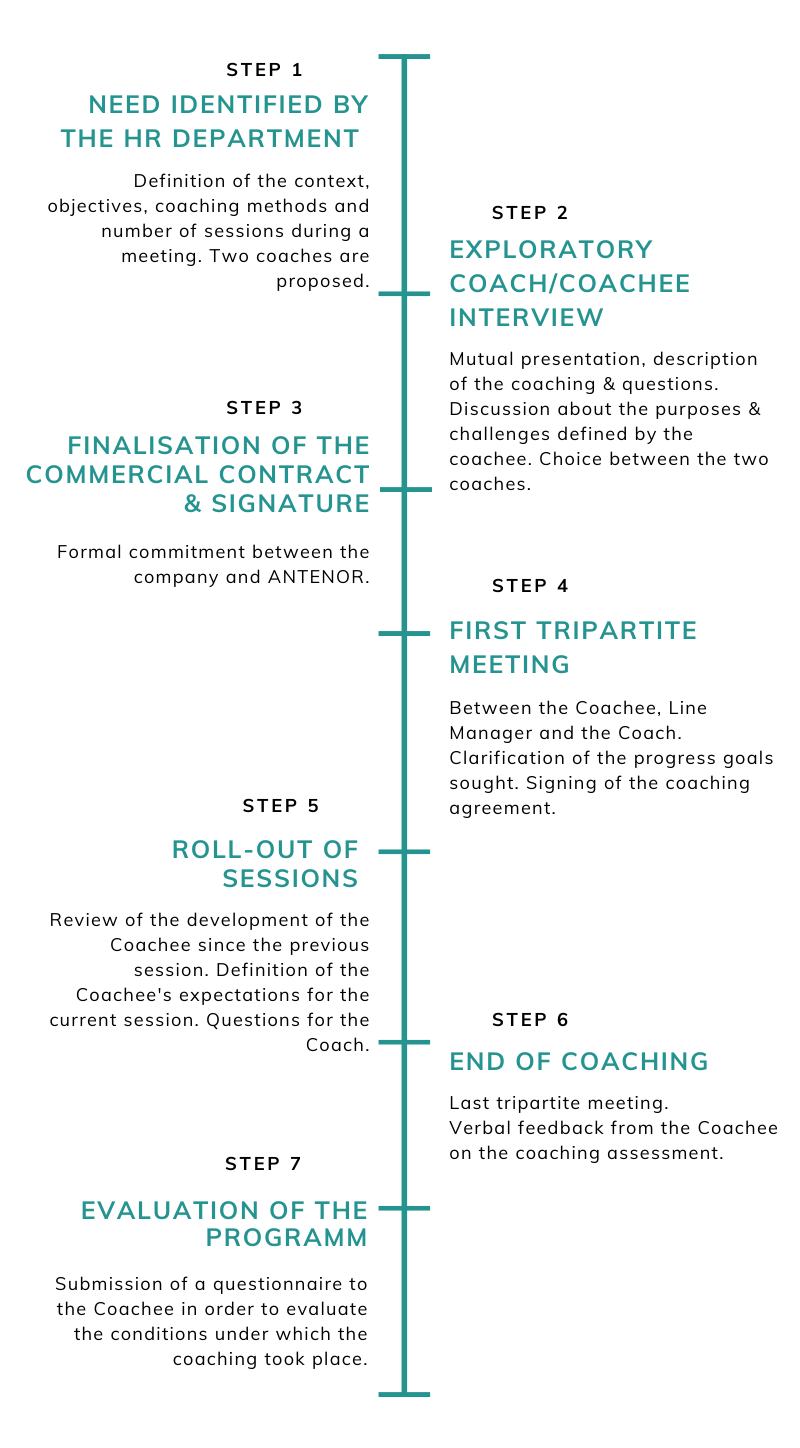 Raphaèle Massard
Coach
Raphaèle is an HEC Certified Organisational Coach who boasts more than 15 years of marketing, management, and top management experience within the veterinary pharmaceutical industry. As a veterinary doctor, she used diagnostic rigour and the understanding of the system's complexity to carry out projects involving the transformation and development of an SME.

Today, she supports companies to improve their organisation and thus their growth. Based on the principles of systems approach and organisational theory by Eric Berne, she helps organisations to create value by aligning their teams, their processes and their projects. Raphaèle takes action to help resolve malfunctions on the one hand, and, on the other hand, takes action to support the definition and deployment of transversal projects.
[lire la suite]
Teeva Facchini Joguet
Coach
Teeva is specialized in strategic marketing and management, with a strong expertise in the field of healthcare, oncology and hospitals issues and significant international experience (15 years of experience).
After completing a Master's degree in coaching practices at the University of Paris 8, Teeva obtained her Professional Coach certification with a thesis on the theme: "How does coaching provide added value for physicians?
- Preferred themes: Change(s) and management of complexity, optimization of performance, taking on new functions (onboarding)
- Methods & processes (frequently) used: Team and individual coaching, facilitation, training (Optimization of communication / Professional efficiency / Assertiveness)
- Approaches and tools: Systemic, Clean language, Narrative Practices and Disc and WPMOT tools.
Teeva is engaged in clinical research on the development of coaching and announcement simulations for care providers with various studies underway and an article already published in the Bulletin du Cancer.
Finally, Teeva also intervenes at the University of Paris Cité on the development of medical functions (DU MSL / Master 2 in medical affairs)
Her clients & partners testimonials evoke a person "Creator of links" & "Transmitter of energy"
[lire la suite]
Carine Shaub
Coach
Carine is an enthusiastic and optimistic coach with over 25 years of operational experience, who specializes in the pharmaceutical industry.
Carine had the opportunity to work on many strategic and operational projects in the field of human resources. touching upon various departments from finance, sales and strategic operations up to general management. She has always been driven by bringing together the energy and potential of those around her, and it seemed natural to her that in 2018 she decided to move towards the realm of human resources.
Today, she thrives in her different roles which give her this special touch and adaptability to every situation. This ability to understand her environment and to adapt herself to it is due to her various skills, her business appetite and operational experience over the course of the years.
Her main areas of expertise are:
Individual coaching of leaders and managers
· Coaching and facilitation of Management Committees and Executive Committees
. Strategy and Organization Consultant
· Trainer in Leadership, Management and Transformation Project
Carine is certified DISC Forces, OpenMind and Map&Match
[lire la suite]
Aurélie d'Escatha Picat
Coach
Engineer by training, Aurelie has worked 19 years in the industry sector, more particularly in the automotive industry, the scientific instrumentation and medtech industry. She has managed opérational teams and has led transformation projects. Trained in Lean Management, she has worked with managers in setting up a strategy of operational excellence. As an expatriate in China for 5 years, she developed an interest in the cultural differences within a company. Her passion for challenges and the richness of humanity brought her to start training in professional coaching. Today, she offers her coaching solution to people and organisations. She uses her own experience and relies on different approaches such as MBTI, Process Communication and narrative practices.
[lire la suite]