Our coaching solution

Guided by the desire to provide its clients with ever better support, ANTENOR is developing its coaching solution.
ANTENOR works with a network of certified coaches whose values match those of the firm: partnership, transparency, commitment, thoroughness and confidentiality. Their respective backgrounds provide you with an understanding of the challenges of corporate life and professional relationships between employees.
Examples of topics covered in coaching:
•  developing a managerial posture
•  joining a Management Committee
    organisation
•  becoming a manager of managers and supervising former peers
•  successfully taking up a post
•  being an active player in the transformation of the company
•  gaining in impact and assertiveness
•  becoming an inspirational leader
The steps in the coaching process :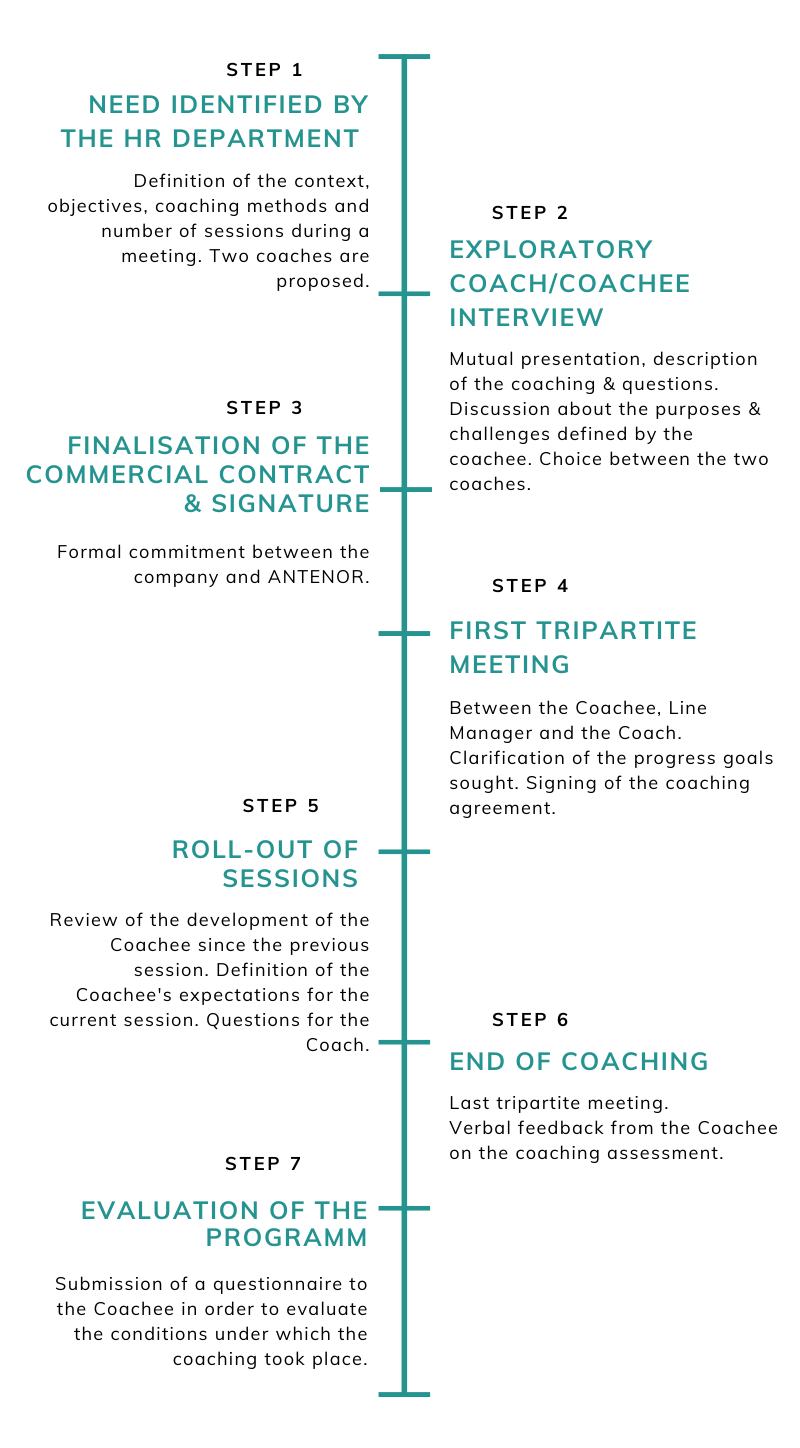 Aurélie d'Escatha Picat
Coach
Engineer by training, Aurelie has worked 19 years in the industry sector, more particularly in the automotive industry, the scientific instrumentation and medtech industry. She has managed opérational teams and has led transformation projects. Trained in Lean Management, she has worked with managers in setting up a strategy of operational excellence. As an expatriate in China for 5 years, she developed an interest in the cultural differences within a company. Her passion for challenges and the richness of humanity brought her to start training in professional coaching. Today, she offers her coaching solution to people and organisations. She uses her own experience and relies on different approaches such as MBTI, Process Communication and narrative practices.
[lire la suite]
Frédéric Bonnard
Coach
Trained as an engineer, Frédéric Bonnard has spent more than 25 years in the digital industry and has held various management positions in start-ups and mainstream media around the world. This was a structural experience before becoming a coach to support executives, managers and companies in their transformation. Using mindfulness and emotional intelligence, Frédéric helps individuals to become aware of their inner workings in order to move out of an automatic reactive mode and become fully responsible for their actions and their future. Frédéric is also a yoga teacher.
[lire la suite]
Severine Besse-Le Saux
Coach
Trained in the social sciences and passionate about politics, Séverine Besse-Le Saux supports professionals by questioning their communication, i.e. their relationships with others. Business leaders, executives, politicians and top sportsmen and women are invited to rethink the way they function professionally through their managerial, commercial and media communication... the communication they build, the image they project or the image they would like to have. Experienced in crisis situations, Séverine likes complexity and committed people.
[lire la suite]